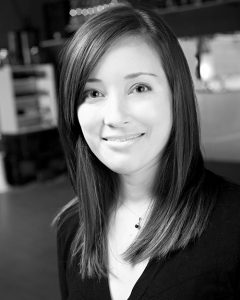 Kathryn is a graduate of the National Ballet School of Canada Teacher Training Program. In addition, she is a registered teacher with the Royal Academy of Dance and holds her RAD Teaching Diploma, with written papers in Psychology, Anatomy, Music, and Dance History. She is also a registered teacher with the Imperial Society of Teachers of Dancing (ISTD) and has attained Associate status in the National Dance branch. She holds the Royal Academy of Dance advanced ballet certificate and the I.S.T.D. Cecchetti advanced ballet exam. Courses completed at the National Ballet School include: dance history; child psychology; pedagogy in RAD, Cecchetti, and NBS methods; art history and appreciation; national and historical dance; composition and choreography; music history, theory, and appreciation; anatomy and kinesiology; body conditioning; and advanced modern and ballet classes. Kathryn has studied contemporary dance composition and modern dance while enrolled in the BFA Honours in Dance Performance at York University.
Kathryn has taught in many studios in the Toronto area and was the Director of the Junior Ballet Program at the Ancaster School of Dance from 1999-2001. She has been the Director of Ballet at Dimensions in Dance since the fall of 1999 and has successfully entered students in all levels of the Royal Academy of Dance ballet exams. Her students have gained success at regional and national dance competitions in Canada and the United States. Kathryn has developed and conducts classical ballet classes for home school students in Brantford under the TEACH Home Educators of Brant. She has taught ballet classes for the Kitchener-Waterloo Skating Club summer session and continues to teach off ice training classes for novice to senior level pairs.
Finding great reward in sharing her passion and knowledge of dance with children and adults, Kathryn sets a high standard of technique in the studio. Many of her students have pursued dance at the post secondary and professional level gaining acceptance at the National Ballet School of Canada, Quinte Ballet School, Ryerson University, York University, and George Brown College. As well, some have received recognition in the So You Think You Can Dance Canada finals and top 20 dancers, and contracts with touring shows and cruise lines.
She continues to pursue her dance education through professional development by attending many teachers' workshops and seminars held by the National Ballet School, Ballet Magnificat, Dance Ad Deum, and the Royal Academy of Dance. Kathryn is both honoured and thrilled to be a part of this cutting edge studio and the opportunity to make a difference in the lives of students.