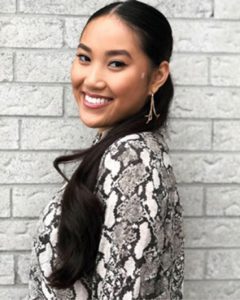 Gill Magcalas first began dancing at the age of six and grew up training and competing in all styles of dance from various dance studios in Hamilton, Ontario. She trained under countless choreographers and traveled far and wide to compete; including the 2014 International Dance Organization World Championships in Prague, Czech Republic. However, of all styles she trained in, hip-hop became Gill's passion. She worked as an assistant dance teacher and began teaching hip-hop at the age of seventeen.
In 2015, Gill joined The ARTillery Dance Company, a hip-hop dance crew based out of Hamilton, directed by Carnel John Destacamento and Miguel Ramirez; and was one of the first generation of The ARTillery when it was first established. To this day, she still trains and competes with The ARTillery in competitions against other talented hip-hop crews within the GTA, but not limited to competing nationally. Among these competitions was World of Dance Michigan 2018 where they won first place.
After graduating high school, Gill began her post-secondary education in the McMaster-Conestoga Registered Nursing program, whilst still pursuing her passion in hip hop. She joined the Dimensions in Dance faculty in 2017 and began teaching competitive hip hop. Gill is both honoured and overjoyed to be a part of the Dimensions family where she aspires to share her passion of hip-hop with her dancers and facilitate them to be successful in this style as they are in all other styles of dance.